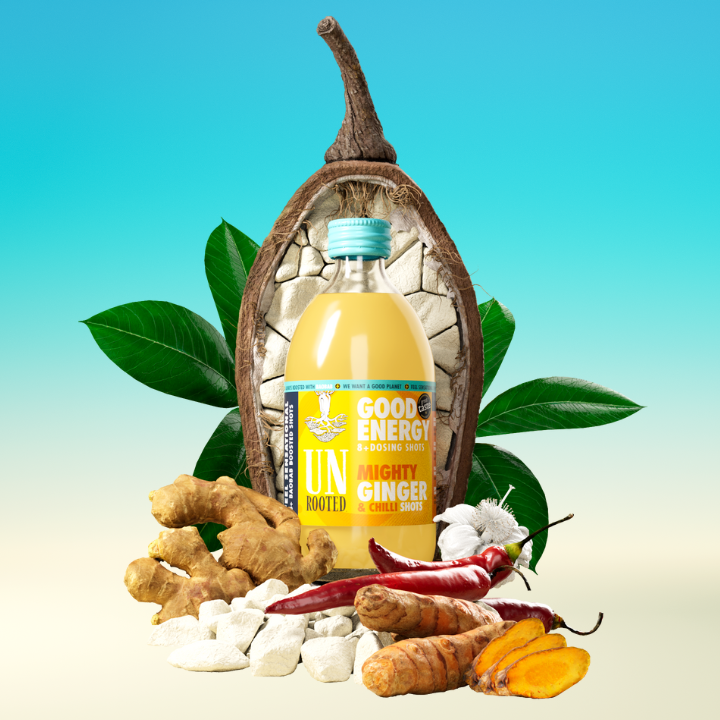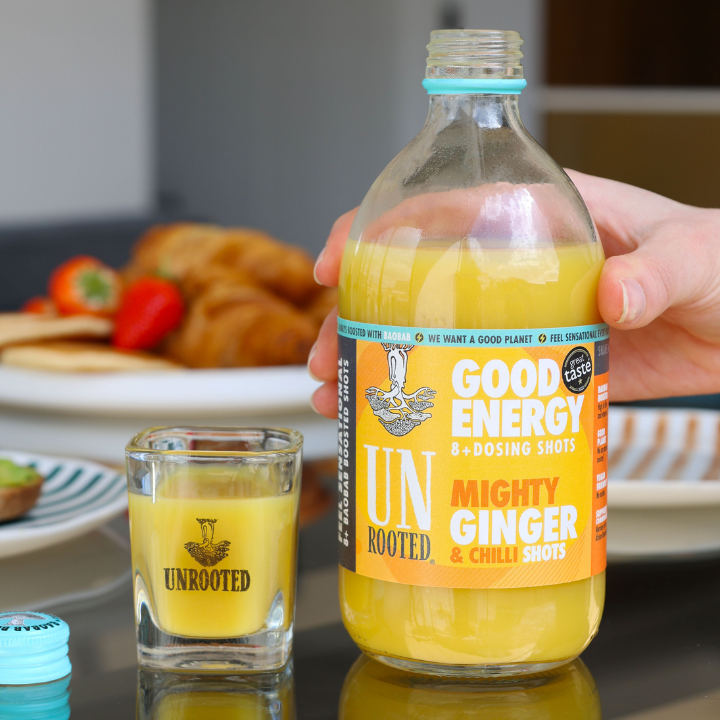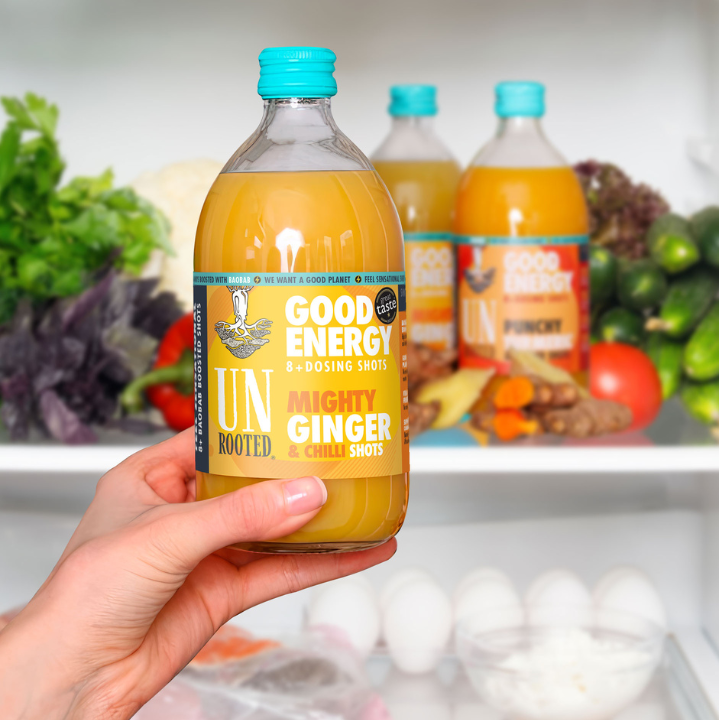 GOOD ENERGY
MIGHTY GINGER DOSING
Our best-selling Mighty Ginger shots, SUPERSIZED. Perfect for a natural kick of energy and boosted with nutritious African baobab to support your immune system.
Love our Mighty Ginger shots? Our 500ml bottles contain 8 shots and each pack contains 4 bottles.
With our dosing bottles, each shot costs just £1!
🧡 Ginger - everyone's go to ingredient for a caffeine-free boost 
🌱 Baobab - high in vitamin C, fibre and antioxidants to support your immune system.
🧡 Turmeric - packed with antioxidants to keep your immune system strong.
🌶️ Scotch Bonnet Chilli - packs a real punch leaving you feeling energised.
Carbon Neutral with 100% recyclable packaging.

Every order helps to create jobs and send children to school in Southern Africa.
Unrooted is a functional drinks brand that uses the incredible, nutritious, African baobab fruit in every single shot.

Baobab fruit is high in fibre, vitamin C and antioxidants, and sales of baobab fruit benefit local communities and access to education for children across Southern Africa.

Frequently asked questions
What are the benefits of Unrooted Mighty Ginger shots?
When should I drink Unrooted Mighty Ginger shots?
How long do Unrooted shots stay good for?
Are there any added sugars in Unrooted Mighty Ginger shots?
What are the benefits of Baobab?
Ingredients & Nutrition
Ingredients: Water, ginger juice (25%), pineapple juice, lime juice, baobab powder (2%), scotch bonnet chilli extract (1.2%), turmeric extract (<0.1%), black pepper extract (<0.1%), ascorbic acid

Nutrition typical values per 100ml: Energy (kJ 145.5 / kcal 34.8), Fat 0.0g (of which saturates 0.0g), Carbohydrates 7.3g (of which natural sugars 3.2g), Fibre 1.4g, Protein 0.7g, Salt 0.0g.
INCLUDES
4x 500ml bottles per case each containing 8 shots.
SHIPPING & DELIVERY
Free UK delivery on all orders over £40